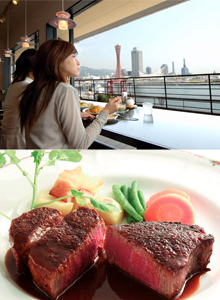 When walking at the town in Kobe, a number of the stylish and fashionable shopping stores can be seen, that fit in the town of fashion, Kobe.
Former foreign settlement area which is lined with brand-name stores, the main store of MAXIM which produces custom-made hats for Japanese royal family and celebrities, the directly-managed store of Tasaki Shinju Co., Ltd (Pearl Enterprise) which locates the head office in Port Island, and places of dispatch of the sophisticated and mature fashion including Daimaru and SOGO Department Stores are located within walking distance of Museum Tower.
Relax at a café when you feel fatigue after shopping.
You can feel the wind flowing from the mountain to the sea, which you have never noticed in walking.
You also hear the sound of a steam whistle and the languages of various countries.
Sweets made of fresh cheese that is produced at a farm in Kobe, popular restaurants of Kobe Beef for foreign tourists and businessmen, Sushi with fresh fish from Seto Island Sea… Kobe is the first-class of gourmet too.